6 PACK AWARD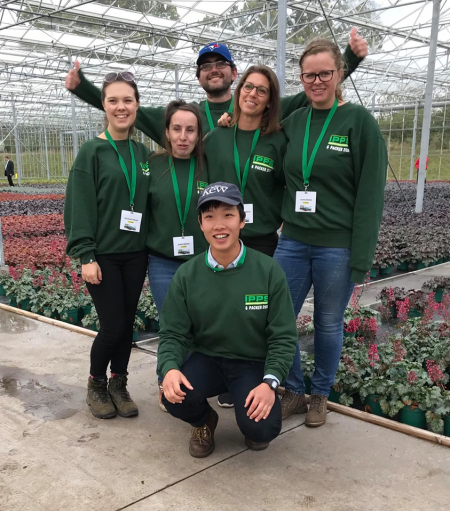 6 Packers 2019
The IPPS Europe 6-pack award gives 6 'new to the industry' horticulturists the chance to attend the IPPS European Region Annual conference, free of charge, taking place this year in Edinburgh, Scotland.
This year's conference, titled "May the Culture be with you" takes place from Wednesday 7th – Friday 9th October 2020, at the Holiday Inn Hotel Edinburgh.
The award is open to anyone who is 'relatively new' to working in commercial ornamental horticulture or is currently studying to enter the industry. Up to six places are available, and IPPS Europe will cover all hotel and conference fees, plus contribute to travel costs. During the conference, one 6-packer will be chosen, following a short informal interview, to take part in the IPPS International Exchange scheme, giving them the opportunity to attend the annual conference in the Southern region of North America in 2021.
"Attending the IPPS Conference is a fantastic opportunity to meet and mix with leading growers from across Europe," commented Karl O'Neill, IPPS Europe President. "The opportunities opened up by this award have inspired many young horticulturalists within the industry".
2019 IPPS Europe 6 pack award winners
Speakers throughout the three-day conference will cover a range of topics from 'The Virtual Greenhouse' to 'Nutrient Disorders', from 'Horticulture and Conservation' to 'Biological Control of Pests'. An excellent itinerary of visits includes trips to Cheviot Trees, Pentland Plants and Glendoick, where delegates will be able to see excellent horticultural practices and new technology in action.
"The other delegates were all very friendly and welcoming, and I would recommend it to anyone who is offered the chance to attend", commented Thomas Everard, 2018 6 packer. "I would like to thank everyone at the IPPS as I couldn't have had a better experience".
For further information or an application form, please contact karl@bransfordwebbs.co.uk Application forms can also be downloaded from www.ippseurope.org The closing date for applications is Friday 29th May 2020.